So. The good old British weather. Where to begin?! It has once again been somewhat changeable, with only a mere handful of those favourable crisp autumnal days to speak of due to the sheer deluge and torrential downpours we've had of late. These have resulted in some fairly extensive flooding up and down the country, we really have been hit hard with the wet stuff over the past few months.
Precipitation news aside for a moment, it is time for your 'almost end of year' Newsletter to keep you up to date with what club members have been up to and what's coming up next…
SOCIAL NEWS
CLUB CURRY NIGHT 
Friday night saw a massive 33 of you turn up for curry and a pint! The night always proves to be a popular one as it gives everyone a chance to catch up over a cold beer and enjoy good food and cycling chat in slightly more sociable and warmer surroundings. We will aim to plan another night out soon, so there will be an opportunity for anyone who missed out this time, or for those who simply want to come back for more of the same!
CLUB NEWS
CLUB AGM – TUESDAY 26TH NOVEMBER 2019
The Chippenham and District Wheelers AGM will be held in the Chippenham Bowls Club at the Sports Club on Tuesday 26th November at 20:00. Please arrive in plenty of time.
Please note that this is your chance to voice your opinion and vote on matters that concern you, so it is in your interest to attend the meeting. If you would like to raise any matters, please notify the Secretary no later than the 12th November, so it can be included in the agenda.
Any questions arising from the above, please forward to secretary@chippenhamwheelers.org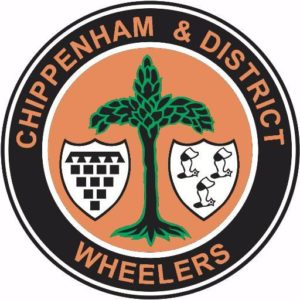 LEISURE RIDES
Due to the poor weather and high winds seemingly showing up every weekend for months now, Peter Bridgens, who organises the Saturday Leisure Rides, took the decision to cancel a couple of rides in the hope they could be run at a later day, but despite the often biblical conditions, a handful of Club members braved the elements and even look as though they were enjoying themselves?! We haven't decided whether they are hardy souls or just ever so slightly mad – either way, Chapeau guys!
WEDNESDAY NIGHT CLUB RIDES
We will be reintroducing the Wednesday Night Club Rides starting this week, 13th November at 6.30pm from the front door of the Sports Club Chippenham. Mileage will be approx 18 miles, to return to the Club house before 8pm. Suitable for any rider, no one gets left behind! Please make sure you are wearing suitable attire and have a fully charged set of lights.
UPCOMING EVENTS
CHRISTMAS EVE RIDE – TUESDAY 24th DECEMBER 2019
Can you believe they're showing Christmas adverts on the telly already? I guess this means we need to start thinking about digging out our festive frocks and Christmassy costumes ready for the Wheelers Christmas Eve Ride!
Departing from The Town Bridge at 10am, we will set off in small groups for a gentle spin around the quiet lanes of Chippenham; there will be the traditional stop on the footbridge overlooking the M4 for an exchange of hip flask tipples and some frantic waving at cars 'driving home for Christmas' (see our Club Chairman and pals below!) then it's all back to Club HQ for some light libation and perhaps an egg nog or two!
Please note the Sports Club have kindly offered to open especially for us as they are usually closed on Christmas Eve, food will be available but will only be a limited menu of bowls of chips and bar snacks.
We'd love to see as many of you as possible, last year we hit the 50 mark so let's try and beat that for 2019! Club members and their families are all welcome.
Don't forget bikes can be stored in the changing rooms (one of us will have a key) and for anyone driving there is ample parking on-site.
CLUB ANNUAL DINNER & AWARDS – SATURDAY 25th JANUARY 2020 – SAVE THE DATE
It may still be ages away, but with the days whizzing on by at a rate of knots, there's no time like to present to mention the Club Annual Dinner & Awards. This year's event was (so we've been reliably informed) our best yet, but we would love to make it even bigger and better, so pop the date it in your mobile devices now then there is absolutely NO EXCUSES as to why you can't make it or that we haven't given you plenty of notice!
Also, a polite reminder from our Racing Secretary that if you were a trophy winner last season, please could you return it – a member of the committee is usually available at The Sports Club on a Wednesday night.
AUDAX NEWS
Not that we're wishing the year away, but it doesn't feel like we've got much of it left before we'll be heading into 2020 with a bang! The popular Audax Series is currently being discussed so we should have some dates for your diaries very soon. Watch this space…
COACHING NEWS
SPINNING CLASSES
Martin's indoor cycling (spinning) sessions are still on every Monday from 7.30-8.30pm at the Springfield Sports Centre in Corsham.
£3.00 per session which covers room hire and any profit will once again go to charity.
Interested? Book your place here: coaching@chippenhamwheelers.org.
Martin also hopes to run his 'Strength & Conditioning" classes again and is in the process of confirming dates, venue, etc. Details to follow soon.
VELODROME TRACK SESSIONS – DATES TBC
Just a heads up that Andy Cadwallader will be looking to book some sessions over at the The Geraint Thomas National Velodrome in the coming weeks. Dates will be announced shortly.
THAT'S ALL FOLKS
If you have a cycling-based tale you'd like to share with other Club members, contact us at: comms@chippenhamwheelers.org
And that's your news for November and December (with a small hint of January!) Whatever and wherever you ride, ride safe.